Conference to introduce results from the 100-School Networking Project (Phase II)
Junior high school meeting
The Earth Club. Ten Years of Building Utopia Using Communication Media
Tsuyoshi Iyanagi, Shimizu Kokusai Junior and Senior High School
1. Introduction
Over ten years ago, a seventh grader wrote in a composition class that it would be fun for children from all over the world to gather somewhere on the earth and collaborate in creating something. She wrote that it would be possible to communicate with each using pictures, rather than words. At that time I was considering which club I wanted to run as a part of our regular curriculum. This student's composition motivated me to establish something called "the Earth Club," to see if I could make her dream come true.

I had no inklings then of personal computer networks or the Internet, when writing a letter seemed the only reasonable way to correspond with people in foreign countries. Because I didn't understand English very well, I was unable to help students write letters in English. But just as the student imagined we could communicate through pictures, rather than words, we have developed various international exchange activities using communication media, with the common them of "Communicating with pictures."



2. The Earth Club's hardware for using the Internet
Before participating in the 100-School Networking Project, we accessed the Internet through Apicnet in Tokyo, using a 2400 bps line. We applied for the project by submitting a proposal that described how we would like to use the Internet for the Earth Club's activities. The club meets once per week and is part of our regular curriculum. We currently access the Internet using equipment supplied by the 100-School Networking Project (a server, a client, and a 64kbps leased line.) A secondary theme of our club's activities is: What can we accomplish, using the limited equipment we have to use?

Our junior high school has only 25 students, and every one of them is a member of the Earth Club.



3. The history of the Earth Club (ten years)
1) Correspondence by mail: letters, slides, tapes, and videotapes. (before 1987)

2) Correspondence by international fax: (from about 1990)

3) Correspondence using a computer network:
PC-VAN JSTS
Computers were placed in our radio studio and students' room. (from about 1992)

4) Correspondence using the Internet:
Access through Apicnet (from 1993)
Participation in the 100-School Networking Project (1995–1996)
Participation in the 100-School Networking Project Phase II (1997–)


4. Building Utopia on the Internet
It's often said that the Internet is no longer a Utopia, but we think the time has come when we can build our own Utopia on the Internet. Hardware and software have become much easier to use than before, and sending and receiving color images takes much less time. Our own ideal Utopia on the Internet would have the following:

1) No language barriers: Students would communicate through pictures and music. We'd also for help from volunteer international translators.

2) Everyone is free to participate: Students from various grades, types of schools, and age groups would be able to communicate with each other, and with people from research institutions.

3) Cooperation: Students would use their strengths to help each other.

4) Creativity: Students would work together to come up with more creative solutions.

5) No borders: Students from different countries would collaborate, by working on the same directory and server.

6) Cultural Mix: Different cultures produce different results. All cultures are unique and have their own strengths. Students would pool the strengths of their own particular cultures to create new things.

7) Actualizing virtual experiences: Students experience not only virtual communication on the Internet but also experience as things in real life as much as possible. Possible examples includes jointly editing a picture book, sharing information on plants that students cultivate at the same time, and decorating a Christmas tree together.



5. International relationships to create Utopia
English is necessary to communicate with children from foreign countries via the Internet, but I chose not to force students just beginning to study English to use it. These days, we can enjoy communicating with others via the Internet without using English. For example, we can send and receive color images and music. Japanese students can express their feelings to anyone in the world with a single color image. I try to avoid pressing the students when using computers, because our goal is for students and teachers to enjoy working together. The Earth Club's primary goal is express creativity by drawing pictures, writing and singing songs, and sharing this work with students who live in other countries. I would like to introduce our Utopia through some of the work that has been done by members of the Earth Club.



6. Work co-produced by students from all over the world
Self-introduction, using pictures
1) Designing a handkerchief with a partner from a different country, using each other's drawings (collaboration between Japanese and Russian students during summer vacation in 1995)

2) Creating a collaborative group using portraits ('97 Virtual Class Room On The Net VC-66)
3) Putting together the Earth Club's Christmas tree in the project "Working Together" (Christmas project 1997)

4) A team comprised of Japanese, Thai, and American students put together a Christmas tree ('97 VC-66)

5) Students from three countries joined to produce a Christmas story ('97 Virtual Class Room On The Net VC-66)
"Research on International Collaboration, on the Same Server and Directory," a school-initiative program of the 100-School Networking Project Phase II
6) Joint production of a Russian and Japanese wild herb calendar
Joint production of a picture book in the project "Germination Map" in the 100-School Networking Project Phase II
7) "Kenaf, a Hotel for Insects"
Communicating through music
8) KIDLINK Music Concert (a concert presented by KIDLINK Japan, using the international project link)



7. Conclusion
If you examine what our students have done with a critical eye, you may be disappointed with the results of our Utopia up to this point. But in the ten years of experience, we've learned the following:

1) Living on an island country limits the chances for Japanese teachers and students to participate in international collaboration.

2) The 100-School Networking Project has offered students the chance to experience international collaboration in their own classroom.

3) The growth of the Internet has allowed students to experience international collaboration, despite a lack of English skills. With help from their teachers, students have been able to communicate through pictures, photographs, and music.

4) Students now have an idea of the potential fascination of international collaboration, and the importance of language in communication. In one student's opinion: "I don't think I could have done this work by myself. I believe that we were able to create such wonderful work because students from all over the world worked together and brought their own unique expertise to the project."

5) International collaboration can aid in the internationalization of Japanese education.

6) The Internet has the potential to be an effective tool for education. For the future, we should strive to organize programs to offer students constant opportunities to use the Internet.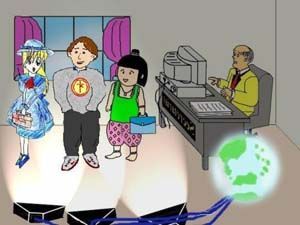 Joint production of a picture book. Students from our school,American students.
and Thai students drawing a picture on the same page.
---

Conference to introduce results from the 100-School Networking Project (Phase II)